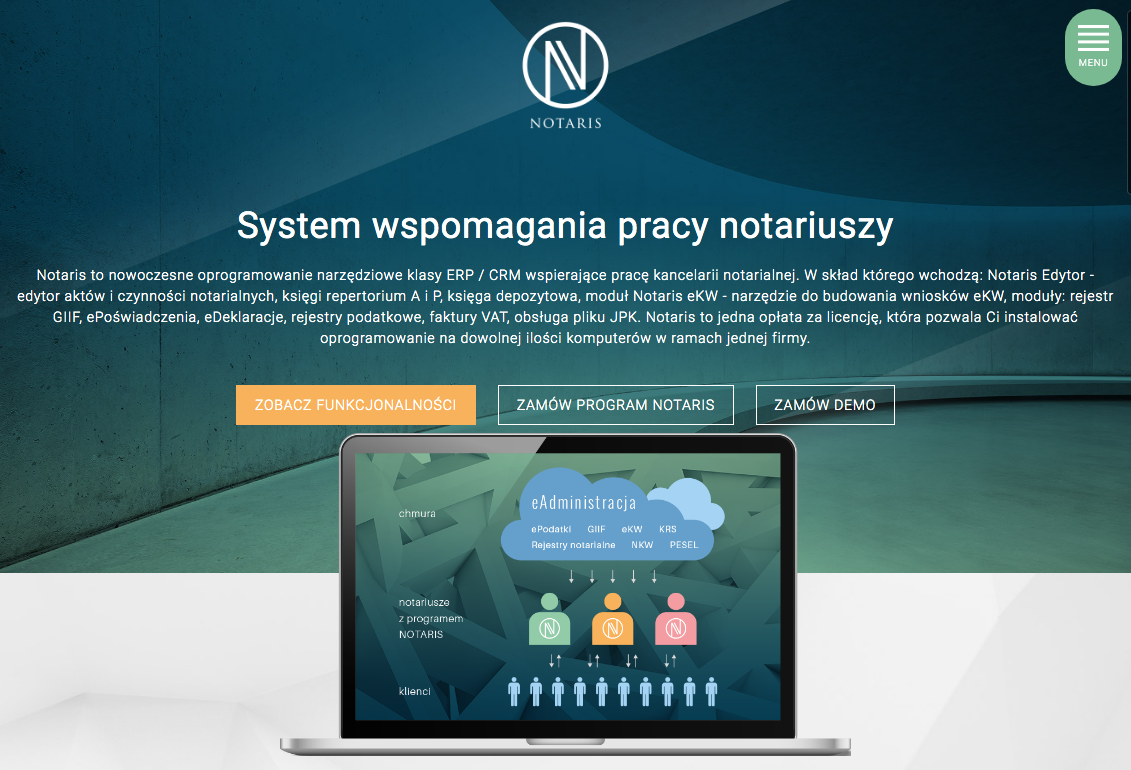 It is a modern and innovative software for notaries. It consists of applications supporting work of a notary office – Notaris Office – program for managing cases, keeping notary books, creating all registers and reports required by law (also including reports to the GIIF). Notaris Editor – program for creating files and other notarial activities (contains activity templates), Notaris eKW – program for creating, veryfing and sending land and mortgage register application,Notaris eDeclarations – tools for tax return PCC i SD in electroinical form, Notaris eCredentials Tools for making electronic attestations for copies and statements using advanced – qualified signature and Notaris-Tools – set of functions supporting daily data archiving. More information on the product website www.notaris.pl
Notaris Office is set of practical and flexible tools. They are necessary for every notary.
The software is adapted to the notarial template of the transaction report (to GIFI – General Inspector of Financial Information in accordance with Act on z Ustawą z dnia 16 listopada 2000 r. (z późniejszymi zm.) Act on preventing Financial Assets from Illegal or Undisclosed Sources from Entering the Financial Market of 16 of November 2000 (with further changes).
The most importand practical functionality of Notaris Office is possibility of data integration. Data are stored in notary files together with database – clear way to automatically write all needed information in notary books (in A,P Repertory, Index, statements to the US, RIN, MS, statistical forms, GIFI transaction card). It happens without additional, time-consuming actions of person who operates an application.
Notaris software allows for using free e-learning course entitled "Counteracting money laundering and terrorist financing" organised by The Ministry of Finance. After finishing the course its attender receives certificate of General Inspector of Financial Information.
*** An addition to the Notaris Office software is:
set of instructional videos
set of program user manuals
set of FAQ and answers
We provide documentation, training materials and service/substantive support. It simplifies process of quick launch and software implementation without experts (IT specialists) help.
Those materials famously simplify work with software and its quick implementation so there is no need for IT.
Notaris Office software has an unique feature allowing for really fast data reading from notarial files. They are therefore suitable for notaries who are fed up with monotonous data rewriting.
Operation is effective and the principle is simple.
During document edition (after reading a file) just press one button to read document content. It will intelligently place all necessary data in notary books (in Repertory, Index, Sheets, Invoices, GIFI Register e.t.c). Everything is done with a little effort.
Nowadays time in competitive economy is really precious. Notaris Office software will let you save valued hours.
NO PROGRAM ON A MARKET HAS SUCH A FUNCTIONALITY (ANALYSIS OF NOTARIAL ACT CONTENT!!!)
Except of Notaris Office, clients receive additional modules starting from electronic repertory, data lists, statistical analyzes, notaris calculator, dictionaries, Transaction Register GIFI to accountancy, PKD database and others.
Program advantages:
one license "for notary office" – Program can be installed on any number of computers which work in given office
moving data automatically from documents to books, registers and notary statements
automatic archivization of activities and tools for quick searching the archive
clear documentation and training videos
simple filtering and information searching
work time optimization of notary office employees
simple and intuitive operation
conflict-free database use by multiple users at the same time
full integration with word processors
many converters allowing for a smooth transition from old programs to new Notaris Office
quick, smooth implementation with free assistance possibility
training videos, remote help, help by phone or e-mail
free updates included in software price
small hardware requirements
work in computer network
Shortly – what Notaris Office does (most importand functions):
files and notarial activities editor
electronic index a,p
people names and notarial activities index
reports to the Tax Office
report to courts
report to The Ministry of Justice
notary calculator
databases (pkd, postcodes, courts, …)
invoices
cash register
transfers
GIIF register
land and mortgage register applications eKW
e-credentials
advanced electronic signature
archivist of activities, including notary deeds
Notaris WWW – website of a notary office
The presented elements only show the outline of the application possibilities. All of system elements make notary office daily work easier. They increase competitiveness and give comfort and work efficiency. They contribute to the business success of every notary office.
Software and hardware requirements:
Operating systems WindowsXP/Vista/Win7/Win8 in 32 and 64 bit version
Hardware requirements such as for MS Office
We offer word processors: Word 2000/2002/2003/2010 or newer. Program can also work without MS Word editor (then we add free document editor AKT Editor)
Internet access on at least 1 comuter in a computer network